2017 Teacher of the Year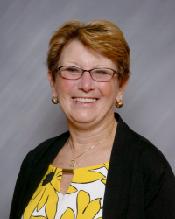 "In considering who to nominate this year for Teacher of the Year, one person kept rising to the top as the "cream of the crop" that our school system is fortunate to have. Kate Diaz is truly dedicated to the heart of teaching--relationships with students, parents, colleagues, and is recognized statewide for accomplishments in this person's chosen field. At numerous events, students have stood up and spoken of their love for Mrs. Diaz. Many did not feel they had a true champion who understood them, their hopes, and their dreams...until they began working with this teacher.", Indicated one nominator.
Mrs. Diaz has been in the education field for 42 years beginning her teaching career just down the road at Brule Public Schools. After five years she accepted a job at Ogallala Public and has been with the district until her retirement in May of 2017.
Mrs. Diaz has also been a strong advocate for her fellow teachers serving as the President of OEA and insuring teacher rights were protected when challenged by outside forces. This is not an easy task and one that requires knowledge of education rules, regulations and policy. Again another task that Mrs. Diaz spent time and energy to stay abreast.
A nominator said, "A teacher can be in the classroom for a long period of time and get accustomed to what is easy--this has NEVER been the case for Kate. She meets every challenge head on and uses her potential each and every day to improve her teaching strategies and objectives in all that she attempts. Not only does she set high expectations for students but also for herself. "
Additional quotes from nominators:
"She goes above & beyond for her students each & everyday. Her heart is huge & her quest to give students knowledge is amazing."
"She is a hard working individual that is not afraid to take on challenges. When she accepts the challenge, she makes sure to give her best work and nothing else. "
"Mrs. Diaz is tenacious and dedicated to her students."
Throughout her time at Ogallala Public Schools, she has made the Fine Arts Program a tradition of excellence within the district, community, and state. It is with great honor that Mrs. Kate Diaz has been selected at the Teacher of the year for 2016-17.